Grant Noble hired as Quick Hunts Production Manager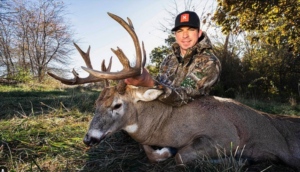 Campbellsville, KY (July 7, 2023) – Urge Media continues its commitment to elevating its production capabilities by hiring Grant Noble from Bowling Green, KY as Production Manager of its Quick Hunts television series.  Noble, a Western Kentucky University Ag Business graduate brings a passion for the outdoors and an impressive portfolio of videography, editing and post-production to a quickly growing Urge Media team.
"I'm very excited to join the Urge Media team and look forward to contribute and share stories about all the amazing people in the hunting, shooting, fishing and camping folks in the outdoors world, " said Noble. "Not only do I get to develop my own skills, but I get to work to work with some of the industry's best talent and biggest brands."
The addition of Noble to the team follows the announcement of Curtis Bailey as the new Quick Hunts host and continues the evolution of the "new" Urge Media.
Watch Quick Hunts on Pursuit Channel and Pursuit UP:
Watch Quick Hunts on Wild TV and Wild TV+
Watch Quick Hunts, on the Quick Hunts YouTube Channel
Powered by Urge.
Urge Media, headquartered in Campbellsville, KY, is a leading media solutions provider with a focus on maximizing brand exposure and ensuring the best return on investment (ROI) for their clients. Since 1999, Urge Media has partnered with top-tier producers in the Hunting & Outdoor Recreation space to build comprehensive and impactful media solutions for key brands.  Under new ownership in 2022, the "new" Urge Media has expanded its services to include television advertising, influencer/social media marketing, digital display ads, geofencing/mobile advertising, content creation, and television/video production.
                                                                                                                                     #  #  #