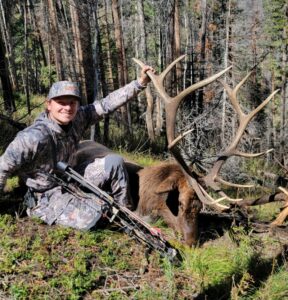 Curtis Bailey is the new host of Quick Hunts
By John Kirby
Curtis Bailey is the now the new host of Quick Hunts, airing on nationally on Pursuit Channel (and streaming through PursuitUp) and in Canada through Wild TV and streaming though Wild TV Plus. Quick Hunts is a thrilling series of 2.5-minute short hunting films, delivering action-packed highlights that keep viewers on the edge of their seats.
Following its successful reign as the #1 show on Pursuit Channel in 2022, Quick Hunts wasted no time in implementing changes to further enhance its success. With the addition of host Curtis Bailey and the establishment of an in-house production team, the Quick Hunts crew is determined to expand their audience and captivate viewers like never before. During the third and fourth quarters of last year alone, Quick Hunts reached over 2.1 million households.
Curtis, hailing from West Liberty, Kentucky, is intimately familiar with the outdoors lifestyle, having grown up hunting and fishing around the country.  "I grew up raising bird dogs and was out hunting whatever was in season at the time. Archery hunting has always been an integral part of my life and any given day you can find me tuning bows in the garage or slinging arrows at paper, foam or big game," Curtis explains.
Curtis will apply his comprehensive background and congenial personality to each episode of Quick Hunts in 2023 and beyond.
"I want to help build on the success and momentum of Quick Hunts and help to create a show that viewers want to be involved in," said Curtis, continuing "Advancing a show that was rated #1 on Pursuit Channel won't be easy, but that's exactly what we're setting our sights on this year."
Hear what Curtis has to say about what Quick Hunts is all about.
Follow along with Curtis as he guides viewers through exciting hunts across the country on Quick Hunts on Pursuit Channel and Wild TV+ starting Monday, June 26.
Monday 6/26: @12:00a.m. EST.
Tuesday 6/27: @6:30p.m. EST.
Friday 6/30: @2:30p.m. EST.
Saturday 7/1: @8:00p.m. EST.
Sunday 7/2: @12:30p.m. & 11:30p.m. EST.
Tuesday 6/27: @9:30p.m. EST
Wednesday 6/28: @2:00p.m. EST
Thursday 6/29: @7a.m. EST
Quick Hunts; Powered by Urge Media.
Urge Media, headquartered in Campbellsville, KY, is a leading media solutions provider with a focus on maximizing brand exposure and ensuring the best return on investment (ROI) for their clients. Since 1999, Urge Media has partnered with top-tier producers in the Hunting & Outdoor Recreation space to build comprehensive and impactful media solutions for key brands.  Under new ownership in 2022, Urge Media has expanded its services to include television advertising, influencer/social media marketing, digital display ads, geofencing/mobile advertising, content creation, and television/video production.