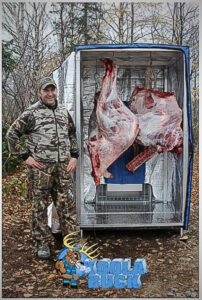 Campbellsville, KY (August 9, 2023)  KoolaBuck, the leading provider of game processing and preserving products, has partnered with Urge Media to market their products in 2023.
Founded by Brad Lockwood, host and producer of Outdoor Edge's Love of the Hunt TV and former President of the Pennsylvania Association of Meat Processors, KoolaBuck continues to innovate the most dependable meat processing and preserving products for hunters.  Designed, manufactured and lab-tested in the USA, KoolaBuck products include antimicrobial game bags, powerful portable walk-in coolers, the convenient Hide Ripper and more.
"We're proud and excited to have a market innovator like KoolaBuck trust us with promoting their brand and products," said Steven Bailey, president and CEO of Urge Media.  "At Urge Media, the focus is not solely on providing services, but on building lasting partnerships that drive growth and success.  We're looking forward to what lies ahead in our partnership with KoolaBuck."
Urge Media, headquartered in Campbellsville, KY, is a leading media solutions provider with a focus on maximizing brand exposure and ensuring the best return on investment (ROI) for their clients. Since 1999, Urge Media has partnered with top-tier producers in the Hunting & Outdoor Recreation space to build comprehensive and impactful media solutions for key brands.  Under new ownership in 2022, the "new" Urge Media has expanded its services to include television advertising, influencer/social media marketing, digital display ads, geofencing/mobile advertising, content creation, and television/video production.
Urge Media is also the producer of Quick Hunts, a high-energy, short-form television show seen on WildTV and Pursuit, and streamed on the WildTV+ app, Pursuit UP and the Quick Hunts YouTube Channel.
#  #  #