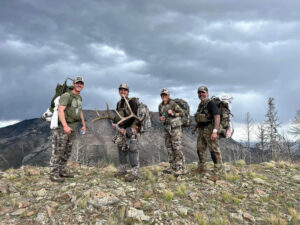 Join our talented and growing team!
JOB TITLE: Digital Marketing Manager
JOB TYPE: Full Time
Interested in an outdoor industry career? Would you enjoy working with well-known hunting, shooting, fishing, camping, off road brands and TV personalities?
WHO WE ARE:
Tamarack Outdoors LLC. DBA Urge Media is a well-established and growing marketing company based in Campbellsville KY. With a focus on the Outdoor industry, we are currently looking for our new Digital Marketing Manager that will report directly to the CEO.
WHO WE'RE LOOKING FOR:
We are looking for an energetic Digital Marketing Manager with an enthusiasm for the outdoors, knowledge of the outdoor industry and a willingness to grow with our company. The role is responsible for fulfilling all digital marketing tasks for our clients. Responsibilities include marketing asset allocation, communicating with producers, TV networks, industry influencers and organizing creative assets. In this versatile role, the Digital Marketing Manager will assist with creating, organizing and placing content on YouTube, podcasts, Facebook/Instagram, influencer channels and will be involved in digital and social media marketing strategies.
The Digital Marketing Manager is also responsible for coordinating with other marketing and sales professionals to implement innovative campaigns for branding or product launches. Their duties include researching target audiences, recording data from campaign results to add to future reports and overseeing a client's social media channels to ensure brand uniformity. You will be an integral part of the development and execution of marketing plans to reach brand awareness and product promotion goals.
Candidates should be competent and professional and able to understand consumer behavior trends and generate creative ideas. You should be well-versed in specialized marketing concepts, principles, and tactics. The goal is to deliver effective marketing programs that will help our reputation and growth.
Digital Marketing Manager Duties and Responsibilities
The following are some duties and responsibilities our Digital Marketing Manager must be able to execute:
Liaise with client/production teams to come up with branding ideas, graphic designs, promotional materials and advertising copy.
Discover effective marketing and promotional channels, including media platforms to be used to relay product messages to customers.
Investigate the performance of a company's marketing campaigns and strategies through evaluating key performance metrics.
Create innovative marketing campaigns depending on robust data and present the recommendations to management.
Establish and maintain relationships with new and existing clients through networking and prospecting.
Create goals and objectives to approach consumer customers through appropriate marketing channels.
Create and distribute campaign performance reports for clients using tracking tools (Klear, Airtory, UTM parameters, etc.)
Expertise in areas such as display, contextual and social media advertising, retargeting, GEO fencing and email marketing.
Solid computer skills, including MS Office (Excel, Word, etc.), Google Office (Docs, Sheets, etc.) design tools (Adobe Creative Suite and Canva), and relevant marketing applications (WordPress, Google Adwords, etc.)
Working Knowledge of HTML, CSS and web development tools.
Digital Marketing Manager skills and qualifications
Our ideal candidate will have certain skills and qualifications, including:
Excellent analytical skills
Strong writing and verbal communication skills
Good attention to detail
Critical thinking and problem-solving skills
Ability to work under pressure and motivation to succeed in a competitive environment
Ability to work with teams and collaborate
Time management and multitasking skills with the ability to prioritize tasks
Knowledge/experience in hunting, shooting, fishing and the other outdoor sportsmen/women activities
Bonus Skills and Trait:
Be a team player
Bachelor's Degree in Related Field from Accredited College/University
A minimum of 3 years of related experience
Kentucky-based preferred, but not required
WHAT WE OFFER:
Digital Marketing Manager salary $44k – $65k depending on experience. This role may require travel to Urge Media HQ, occasional long working hours and may be hired full-time, part-time or on a contractual basis.
Competitive compensation.
Paid time off to enjoy the great outdoors.
Paid Time Off (PTO).
Sick Time.
Healthcare, dental and vision options and or assistance.
Paid Holidays: New Year's Day, Memorial Day, July 4th, Labor Day, Thanksgiving Day, and Christmas Day.
SIMPLE IRA plan – Eligible to contribute after 2 years of service; 3% company match.
Annual employee non-qualified stock option.
Relocation assistance.
Fun and motivated team
Opportunity for advancement
TO APPLY:
Send resume with cover letter to: careers@urgemedia.com