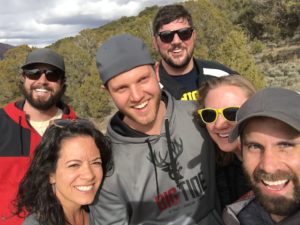 JOB POSTING: Producer Relations Manager
JOB TITLE: Director of Producer Relations
JOB TYPE: Full Time
JOIN OUR GROWING TEAM!
Interested in an outdoor industry career, would you like to work directly with many hunting, shooting, fishing, camping and off-road brands and TV personalities?  
WHO WE ARE: 
Tamarack Outdoors LLC. DBA Urge Media is a well-established and growing marketing company formerly located in Eagle Co., now relocating to Campbellsville, KY. With a focus on the Outdoor industry, we are currently looking for our new Producer Relations Manager that will report directly to the CEO.
WHAT WE ARE LOOKING FOR:
We are looking for an energetic Producer Relations Manager (PRM) with an enthusiasm for the outdoors, knowledge of the outdoor industry, and the willingness to grow with our company. The PRM is responsible for executing all of Urge Media's Television Advertising. Responsibilities to include TV inventory and allocation management, contract analysis, communicating with producers and TV networks and organizing creative assets. In this versatile role, the PRM will assist with You-Tube platforms, Podcast, & Content Creation and will be involved in digital and social media marketing strategies.
Required Skills and Traits:
Knowledge/Experience in the Hunting, Shooting, Fishing, and the general Outdoors.
Experience building and maintaining professional business relationships.
Self-starter, able to work with minimal supervision.
Knowledgeable in social and digital platforms.
Knowledgeable in TV production and programing
Excellent communication skills both verbal and written.
Contracts comprehension and analysis
Capable of multitasking & prioritizing.
Able to work in a fast-paced environment.
Highly Organized.
Strong knowledge in Excel.
High capacity to pay strict attention to details.
Experience with Microsoft Office Suite.
Capable of writing and understanding sales proposals.
Experienced creating reports, quarterly and yearly.
Assets in sales initiatives, RFP, etc.
Capable of managing Urge Media product inventory.
Willingness to work overtime if necessary to meet deadlines.
Willing to relocate to Central Kentucky
Bonus Skills and Trait:
Advanced mathematics.
Inventory management skills.
Video production.
Content creative.
Sales and Account management.
WHAT WE EXPECT:
Bachelor's Degree in Related Field from Accredited College/University
A minimum 5 years of office experience.
Highly Skilled in MS Office (Excel, Outlook, Word).
KY office based with limited remote opportunities
WHAT WE OFFER:
Competitive compensation.
Paid time off to enjoy the great outdoors.
Paid Time Off (PTO).
Sick Time.
Healthcare, dental and vision options and or assistance.
Paid Holidays: New Year's Day, Memorial Day, July 4th, Labor Day, Thanksgiving Day, and Christmas Day.
SIMPLE IRA plan – Eligible to contribute after 2 years of service; 3% company match.
Annual employee non-qualified stock option.
Relocation assistance.
Fun and motivated team!
TO APPLY:
Send resume with cover letter to: careers@urgemedia.com