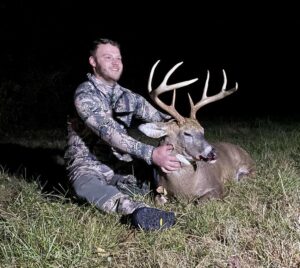 Campbellsville, KY  (July 17, 2003)  The latest addition to Urge Media's expanding team is Jake Blethen, an experienced sales professional and passionate outdoorsman who has joined the ranks as Sales Manager. With his extensive background in sales and management, coupled with his deep love for hunting and fishing, Jake brings a wealth of expertise and a shared passion for the outdoors to his new role at Urge Media.
Hailing from Lexington, Kentucky, Jake developed a love for the great outdoors at an early age. His roots in hunting are deeply ingrained, and he has spent countless days pursuing elk, Mule Deer, Whitetail, turkey, and small game in the breathtaking landscapes of Colorado's Rocky Mountains. 
With over a decade of experience in sales and management, Jake Blethen has honed his skills and achieved remarkable success throughout his career. Notably, his time at Davis Tent, a leading wall tent manufacturer based in Denver, Colorado, allowed him to take on prominent roles as a sales associate and logistical manager. His deep understanding of outdoor gear and his ability to forge strong connections with clients has helped him build a solid reputation in the industry.
Jake's decision to join Urge Media was driven by the company's dedication to the outdoors and a's genuine love for hunting and fishing. "Urge Media is more than just a company to me," said Blethen. "It's a community of like-minded individuals whose lives are deeply intertwined with the outdoor lifestyle." This alignment of personal and professional values made Urge Media the perfect fit for this career move.
Urge Media, headquartered in Campbellsville, KY, is a leading media solutions provider with a focus on maximizing brand exposure and ensuring the best return on investment (ROI) for their clients. Since 1999, Urge Media has partnered with top-tier producers in the Hunting & Outdoor Recreation space to build comprehensive and impactful media solutions for key brands.  Under new ownership in 2022, the "new" Urge Media has expanded its services to include television advertising, influencer/social media marketing, digital display ads, geofencing/mobile advertising, content creation, and television/video production.