In today's marketing environment, social media management goes far beyond just posting on Facebook & Instagram. It's critical to ensure that your brand's social media activity coordinates with other time sensitive marketing efforts such as television advertising, email campaigns, or website developments.
Having a central place for different teams across your organization to manage social media content allows for a much smoother implantation of your social media marketing agenda.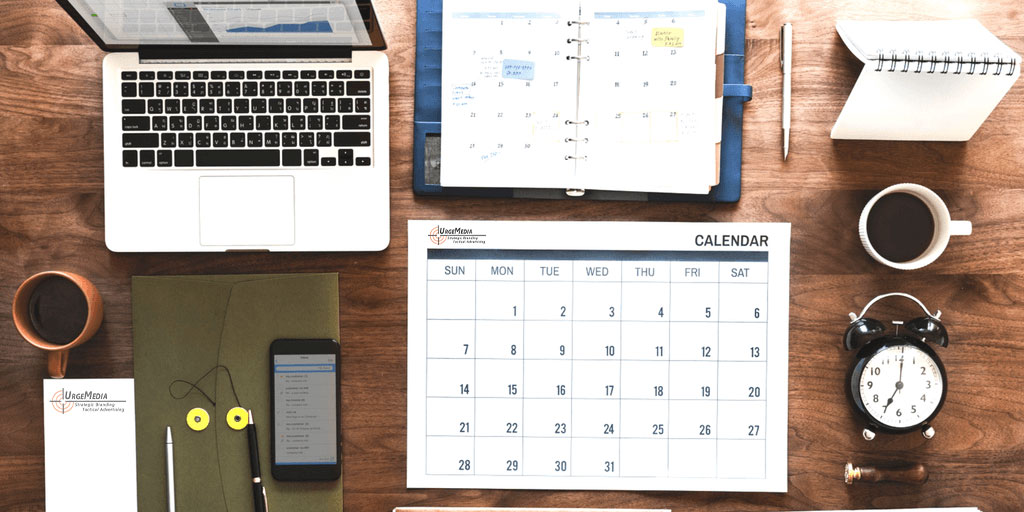 What Is A Social Media Content Calendar?
A social media content calendar is a working document used to schedule out pieces of content you'll post across all social media platforms for the month, week, day, and even sometimes the time of day.
This document serves as a communication tool for post content (pictures & video), post copy, hashtags, and tags to be used for each post. This is extremely important because it allows you to plan and make sure that you're sending the right message, to the right audience, at the right time.
A well-maintained social media content calendar keeps all your marketing efforts focused on the same goal. In doing so, you're able to strategically implement a plan of action for your overall marketing strategy. It also allows you to analyze data across all social media platforms for a better reading of what IS working and what is NOT.
The Importance Of A Social Media Content Calendar
Visualization & Organization

One of the benefits of using a social media content calendar is the ability to visualize your social content strategy over a period of time and stay organized across all social channels. It helps you plan your social media marketing efforts around important opportunities in your industry or company. A solid social media calendar allows plenty of time to fill space with relevant content that is valuable to your audience rather than posting on the fly.
Consistency

Using a social media content calendar allows you to develop a unified voice and create a consistent flow of content that continues to build towards your ultimate marketing goals. Planning out your social media content keeps your brand voice consistent and makes your content a reliable source of information for members of your industry.
Reporting

In addition to planning, a social media calendar aids in the efforts of reporting and following up. Did the whole social media plan go into action? Did we achieve our goals? What worked? What didn't work? This information is key to receiving a return on your investment.
Sanity

It also makes your life easier when creating posts by reducing the need to dig for content. You'll be able to look across all your marketing efforts and make informed decisions about the timing of your social posts. You'll inevitably be thrown a few curve balls along the way, but with a solid organizational system in place, you won't go into a full panic mode when deer hunting season is in full swing and you need to brainstorm a quality Facebook post to promote your brand for this crucial time.
Create Your Own Social Media Content Calendar
Our advice is to just START. It doesn't have to be anything fancy, we recommend a simple spreadsheet. Add columns such as date, social channel, photo/video, post copy, and hashtags. Start filling it in and using it. You can always add, remove, or adjust the information. You'll be happy you started and will feel the stress being lifted because you have a plan in place.